Paprika! x Boot Boyz Biz
The editors and designers of Paprika! Vol. 6 Issue 12, "Fashion," collaborated with Kevin McCaughey of the project-based research practice, Boot Boyz Biz, on 20 limited edition upcycled vintage garments which actively explored the themes of the issue. These items were available for auction on eBay from 05/13/21—05/15/21 🧡💙 All proceeds from the fundraiser went in support of your favorite student-run publication, Paprika!, as well as the Los Angeles-based organization, The Garment Worker Center. See below for images of each item and the text that accompanied the eBay listings.
---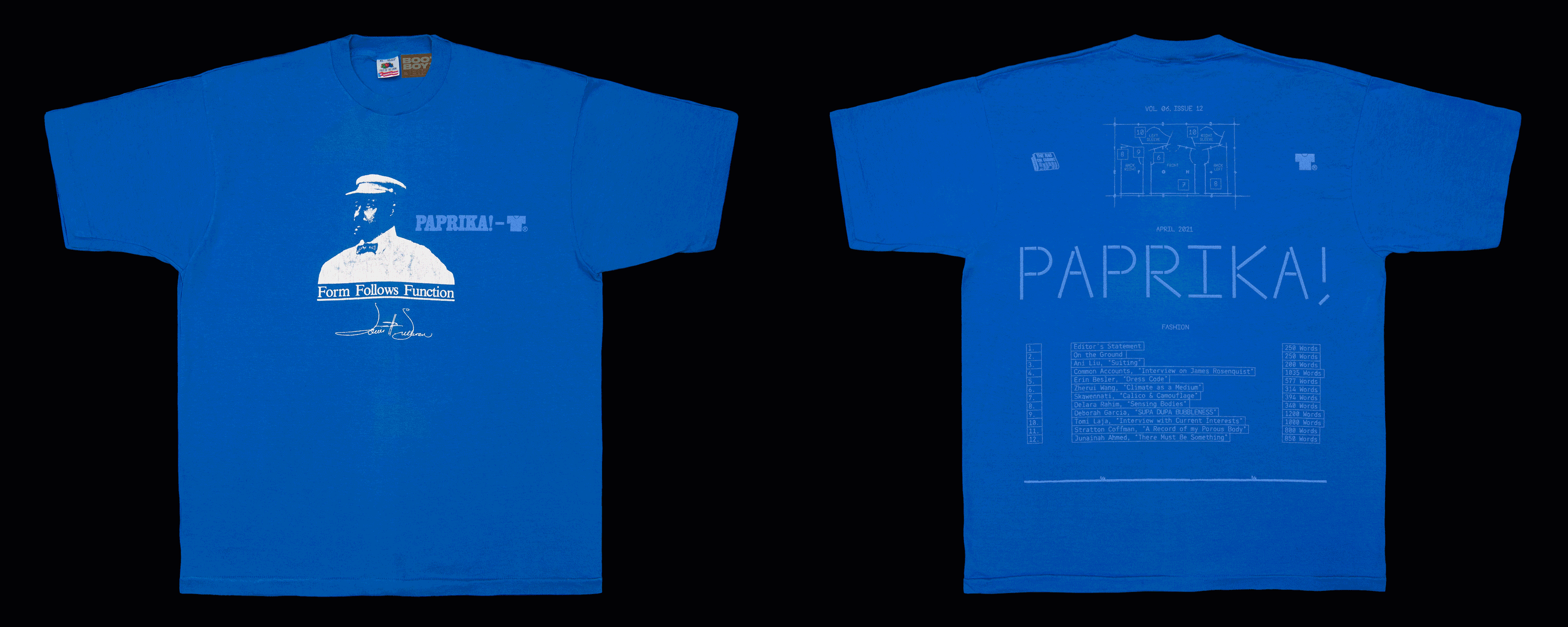 ---

Ships with Paprika! Vol 6, Issue 12 "Fashion". 22" x 25" 2 Sided, 2 Color Broadsheet.

Proceeds to fund future Paprika! publishing projects and the Garment Worker Center.


** At last, with screenprinted tees and offset broadsheets, BOOTERS & EDITORS are one and the same (because the genre has become the same: ORGANIZING VISIBLE LANGUAGE) **
"A newspaper is delivered to a doorstep, and the next day wraps fish, or builds an archive."



As a supplement to Paprika! Vol 6, Issue 12 "Fashion" we (BBB) explore:

1) Historical relationships between clothing manufacturers and universities starting in the 1930s which accelerated graphic apparel into its current form as an inescapable symbolic commodity.


Further:
–en.wikipedia.org/wiki/Sign_value
–nytimes.com/1985/11/18/style/yale-co-op-sells-more-than-the-old-school-tie.html?searchResultPosition=8
–latimes.com/fashion/la-xpm-2013-jun-15-la-fe-atr-t-shirt-100-years-old-20130528-story.html
–youtube.com/watch?v=qkvcfgFI2_Y
"In fact the trade in books can be summed in this commercial theorem: a ream of blank paper is worth fifteen francs; once printed it is worth five francs or three hundred francs according to the success it obtains."
Illusions perdues, Balzac 1837

2) The communicative intensification created by both publications and tees + their shared functions as social links for connecting intimate private life with a vibrant public sphere.

Consequently, social links that act to maintain and reproduce hegemonic dominance demand to be countered by an oppositional practice of illuminating alternatives which aim to make the world larger.
Even where society relies most completely upon the division of labor, it does not become a jumble of juxtaposed atoms, between which it can establish only external, transient contacts. Rather the members are united by ties, which extend deeper and far beyond the short moments during which the exchange is made. Each of the functions that they exercise is, in a fixed way, dependent upon others, and with them forms a solidarity system.
Durkheim, The Division of Labor 1893

3) The second and various possible uses of creative material that interrogates aura through active re-presenting, re-casting, and re-engineering of fragments into potentially explosive cultural production to new audiences – encouraging an ongoing transformative dialogue of consumer and producer, opposed to passive consumption.

Further:
–en.wikipedia.org/wiki/Transformation_(law)
–assets.moma.org/documents/moma_catalogue_3159_300063439.pdf

I am deeply convinced that creativity lies not in finding new material, but in the rearrangement of all that exists.
Umberto Eco, 1995

"Whenever … we bring a foreign body into relationship with the surface of our body … the consciousness of our personal existence is prolonged into the extremities and surfaces of this foreign body, and the consequence is feelings now of an expansion of our proper self, now of the acquisition of a kind and amount of motion foreign to our natural organs, now of an unusual degree of vigour, power of resistance, or steadiness in or bearing"
Lotze, Microcosmus, 1856


Paprika! is a window into emerging discourse from Yale School of Architecture and Yale School of Art. Every issue is student-curated and aims to broadcast diverse voices in the fields of art, architecture and design. Founded in 2014, Paprika! is named after the vibrant orange carpet in Rudolph Hall. Every issue of Paprika! is a newspaper broadsheet uniquely designed by students from Yale's Graphic Design program. No two issues are alike.


Boot Boyz Biz is a project based research practice. Promoting access to ideas and activating ecologies of knowledge is essential to our projects. We see t-shirts as constituents for a public sphere – tools for generating marginal forms of discourse with broad social scope. We aim to assemble an expanding archive of citations, linking a wide range of material we live by. We use intertextual strategies and disinterment to produce translated-synthesized works that strive to open unique pathways.