Large Marge Sent Me
Large Marge Sent Me
The pedagogical reflex these days is to index most things to the urban—in terms familiar to students of landscape architecture, this is most swiftly done by thinking through networks. In his introduction to the edited volume The Infrastructural City, architectural historian Kazys Varnelis describes networks— "codependent systems of environmental mitigation, land-use organization, communication and service delivery"—as the "dominant form of [urban] organization."1 We understand the urban, then, as a measure of connectivity. The logic here reads: if I am able to receive an Amazon package—if I am to be located as a connected point on the logistics highway—I am subject to the urban. How then can we conceive of its absence? We even hesitate to place urban in its tired dichotomy with rural, choosing instead to turn the word against itself (it is what it is not). How wide, how varied, is the space that is opened up through this inversion? What does the not urban look like?
It might look like this: forty minutes into Pee Wee's Big Adventure (1985), the titular character hitchhikes along a highway with a ghost (Large Marge, killed in a traffic accident 10 years prior), and is dumped at a roadside attraction consisting of two steel and concrete dinosaur replicas. He was spirited along a lonely stretch of highway to the Cabazon Dinosaurs, formerly Claude Bell's Dinosaurs, Claude Bell being a sculptor employed at Knott's Berry Farm—understood in the Southern Californian popular consciousness as a lesser, or knockoff, Disneyland wannabe. An uncanny approximation.
In pursuing the not urban I am necessarily pursuing an inverted scale of connectivity; what is the least networked object? The replica, the knockoff, the low-budget roadside attraction, each have limited connections, as they are really only interested in that which they attempt to copy. When the replica is removed from this connection through time, space, believability, or other means of distancing, there comes a point where its connective ends grow fuzzy, and we become less preoccupied with how it might exist in relation to something else. We understand it, in other words, on its own terms. In the absence of its urban context the uncanny finds solid footing, and we invite it to invent its own context. The Cabazon Dinosaurs, for example, now mark the entrance to a new creationist museum (see how it feels to walk alongside these reptiles, just as our ancestors did some six-thousand years ago). With the same supernatural flourish of Pee Wee's arrival, these dinosaurs are smoothed into an alternative and self-reflexive cosmology that is all their own.
Large Marge tells us, "On this very night, ten years ago, along this same stretch of road in a dense fog just like this, I saw the worst accident I ever seen." Marge's prerogative in death is to drive indefinitely along the highway, flitting between points and people at her own discretion. But there are no physical suggestions of a highway in the scene, just the high-beams from Marge's semi tearing through fog. Is it a highway? I think, rather, Pee Wee's been sucked into an approximation of Marge's own invention, where the opacity of her ghostly form depends on self-imposed contextual conditions. "Large Marge sent me," says Pee Wee to the travelers at the Cabazon attraction, and they understand exactly what he means.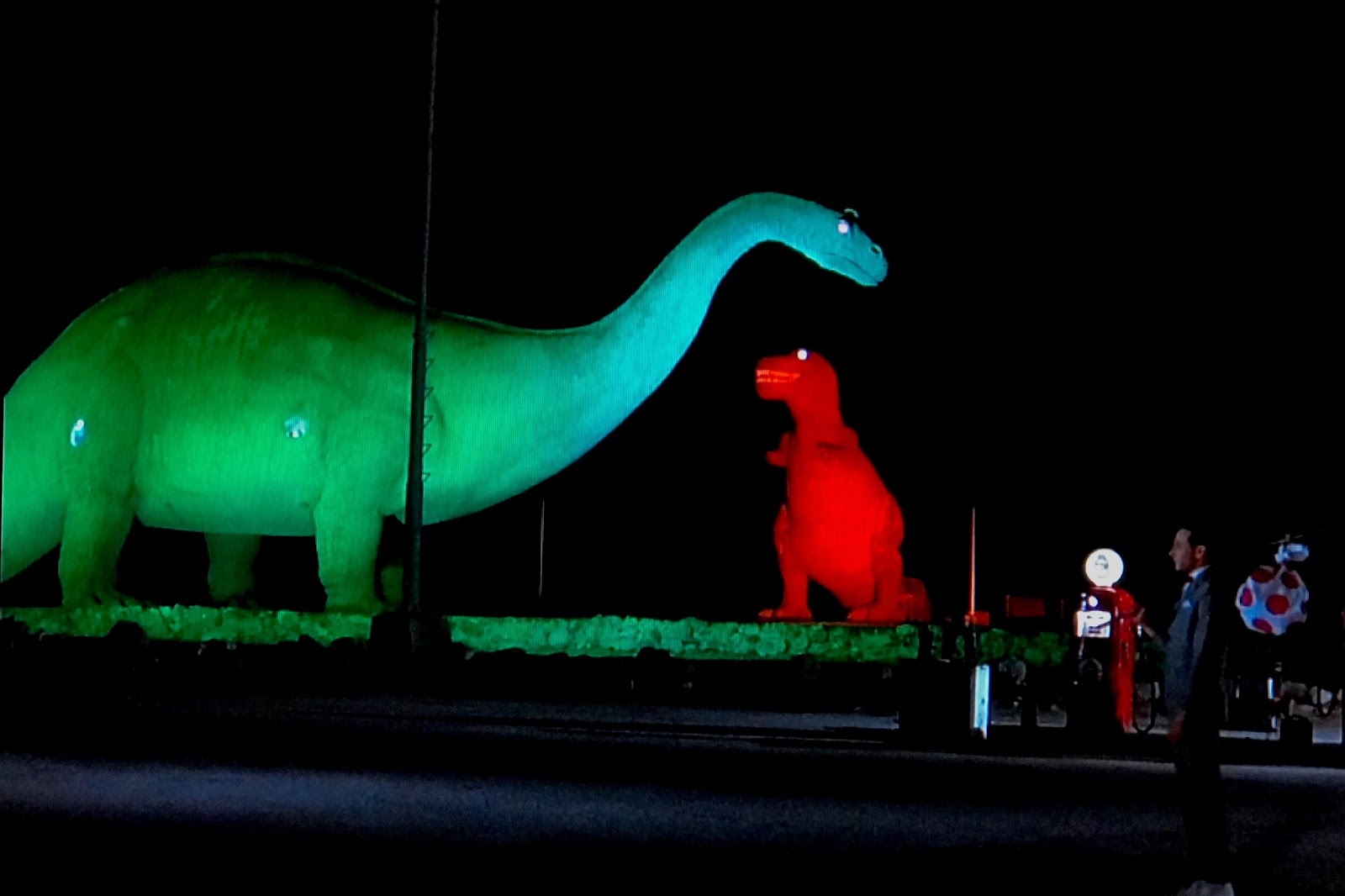 Varnelis, Kazys. The Infrastructural City: Networked Ecologies in Los Angeles. Barcelona: Actar (2009), p. 15. ↩︎