On the Ground
Edited by EDWARD WANG (B.A. '16) & ELAINA BERKOWITZ (M.Arch I, '17)
ROME FOR ALL
2/19: After two articles, student forums, petitions to faculty members, and a rumored meeting with DEBORAH BERKE, a flurry of excitement interrupted Friday's Systems Integration, when one by one, the second year students who were denied a place in the summer Rome seminar receive an email from DEAN STERN inviting them to join the course. The following Monday an all school e-mail from Bob confirmed a major reform:
Recognizing that so many students were interested in the seminar, "Rome: Continuity & Change," and the important role it plays, I am pleased to inform you that the school secured additional funding to expand the enrollment for this summer to include all students who applied in December. The instructors, Bimal Mendis, Joyce Hsiang and George Knight, are committed to this expansion and have reorganized the seminar to ensure that it can accommodate additional students at this late stage.
We hope to continue expanded enrollment in future years.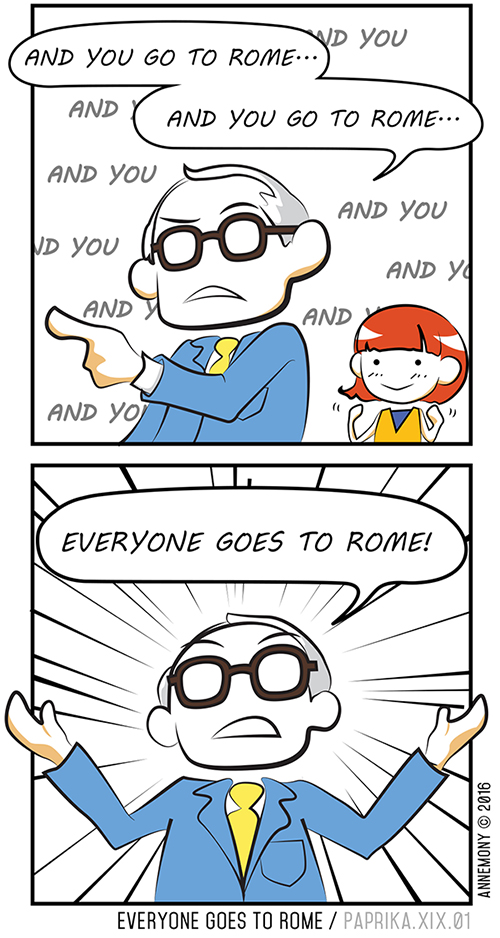 DISPATCHES FROM ABROAD
The peace and quiet in Rudolph Hall sans advanced studios was heavenly, but we're happy to have everybody back. Here's a recap:
STUDIO GRIFFITHS + JACOB BREATHES IN THE BIG SMOKE
The ex-FAT studio spent a week in London caught between divorcées, spending quality time with both parents on separate walking tours — a 6 hour stroll with SAM JACOB followed by another 11 miles with SEAN GRIFFITHS, both concluded with beers at the pub. What's a parade without costumes? Their grand promenade left some on the street questioning whether they were "art collectors or just fancy hipsters."
STUDIO AURELI BASKS IN BAGHDAD BY THE BAY
Happy families may all be alike and unhappy families uniquely miserable, but PIER VITTORIO AURELI is sick of it all: "Question the family. We all love our families — maybe not all of us — but the family is still today what society presents to us as the only way to live. The meaning of the term family comes from the latin famuli which means slaves. The family is an aggregation of slaves."
STUDIO GEERS HONEYMOONS WITH THE BRIDE OF THE SEA, STRUTS IN THE FASHION CAPITAL OF THE WORLD, INVESTIGATES PALLADIO'S STOMPING GROUND
"The life of Scamozzi is our sad life. Palladio's generation was in the heavens," lamented GUIDO BELTRAMINI, Director of the Palladio Museum in Vicenza, of Vincenzo Scamozzi, Palladio's protegé, while leading the KERSTEN GEERS studio through the museum's latest exhibition, "Jefferson and Palladio: Constructing a New World." After days spent observing villas in the Venetian countryside, the studio thoroughly investigated the master's genius from a bar within the impressive Basilica Palladiana, reconstructed by Palladio in 1549, in Vicenza's central square.
STUDIO HADID PRODS THE GREAT WEN
"She deconstructed the room before even arriving!" whispered Cherwell correspondent MARK BARCLAY while his peers rushed to take the lectern out when a fried projector turned ZAHA HADID's lecture at the Oxford Union into a Q&A. What to do as a student? "You should push extreme ideas – the student body & the profession should not be two worlds." About constraints? "I don't like the word compromise." Tokyo? "I have close friends in Japan… not my friends anymore." Most significant project? "The parliament building in Iraq, that would be significant." Later, PATRIK SCHUMACHER tackles the zeitgeist: "Our architecture is of our time, most the rest has already been done, and will therefore be forgotten."
STUDIO KOLLHOFF GETS LOST IN THE GREY CITY
The search for paradise draws HANS KOLLHOFF'S studio away from Alexanderplatz and into Berlin's residential neighborhoods. "This is smiling classicism, like that of Schinkel. Not the brutal classicism of the 30s," explained Miesian expert and guide, Fritz Neumeyer, before the muted yellow facades of Mies Van Der Rohe's early houses. "The Column didn't do anything wrong." Kollhoff admired the methods of architecture, pre-war: "Today you have to draw every piece of shit. If you don't, it all goes wrong. Even Mies didn't draw every detail of his early works."
STUDIO GEHRY ABSORBS THE CITY OF LIGHTS, VISITS THE VILLAGE OF ONE MILLION, EXPLORES THE DIVIDED CITY
"Be yourself, stick to your own core values", exhorted FRANK GEHRY as he wrapped up a whirlwind classical music tour of Berlin, Munich, and Paris. Students were left severely sleep-deprived but starry-eyed, having met with deans, conductors, musicians and directors who occupy the uppermost echelon of the classical music world: Sir Simon Rattle, Magnus Lindberg, Sir Nicholas Kenyon, Alan Gilbert, Lang Lang, and members of the Bavarian Radio Symphony Orchestra, the studio's hypothetical client in Munich.
STUDIO PRIX STORMS THE AUSTRIAN AND FRENCH CAPITALS
While checking out the chops of GEHRY'S Fondation Louis Vuitton in Paris, WOLF PRIX maintains: "This is like a medieval city. My architecture is not like this. You always know where to go." He's right — Gehry's building could only be navigated with the aid of signage or GPS. Later, Prix goes in for the kill: ""Most architects are either like the snake or the rabbit. I am the mongoose."
STUDIO LYNN RACES TO THE DERBY CITY
Though it takes them almost 16 hours to get there, the GREG LYNN studio treks to Louisville, Kentucky to spend five days in two minivans bouncing between Louisville, Cincinnati, and Columbus, IN. The group visits the Amazon Fulfillment Center, the Louisville Slugger baseball bat factory, GE's Rapid Prototyping Center, and Saarinen's Miller House. Highlight of the trip? A tram tour through Louisville's Mega Cavern, a 17-mile man-made underground cave retrofitted as an office park that once served as a nuclear fallout shelter in the 1960s. Yes, creepy mannequins are involved.
BACK HOME
2/11: TURNER BROOKS puts an image in our mind during the Paths to Practice panel conducted with Sean Griffiths and ARIANE LOUISE HARRISON — Bob is giving a martini reception, telling us to work for him. Brooks bursts through the partition, perhaps semi-naked, covered in druidical tattoos, pine boughs in hand: "There is an alternative!"
2/15: Make architecture great again! The Architecture Club had its inaugural event last Saturday, a tour of New Haven's many remarkable parking garages.
2/18: Congratulations to SOFIA SINGLER, M.ARCH '16,  who has been selected as a Bill and Melinda Gates Foundation Cambridge Scholar!
The views expressed in Paprika! do not represent those of the Yale School of Architecture. Please send all comments and corrections to paprika.ysoa@gmail.com. To read Paprika! online, please visit our website, yalepaprika.com
Paprika! receives no funding from the School of Architecture. We thank GPSS and the Yale University Art Gallery for their support.