From YSoA to Practice in Uganda: Interview with Doreen Adengo
Doreen Adengo, principal of Adengo Architecture, is a Ugandan-American architect based in Kampala. After completing her undergraduate and graduate studies at the Catholic University and Yale, respectively, Doreen worked for design firms in London, Washington D.C., and New York. She has taught at the New School and Pratt Institute in New York and at Uganda Marty's University, and until recently served as a visiting critic at University of Johannesburg's Graduate School of Architecture.
Dina Taha: What was the predominant discourse within YSoA shaping the themes of advanced studios, theory classes, and electives during your time here as
a student?
Doreen Adengo: While I was a student, we were constantly told that Yale had a pluralist approach where we got to choose from a diverse faculty with diverse approaches to architecture.
I chose a studio with Tod Williams and Billie Tsien because I was interested in their brief, which looked at a Native American museum in Alaska. It was an engaging studio, and what made it even more interesting was that, when we got to Alaska, the Native American group we met told us they did not want a museum and wanted a community center instead. So during the trip we were faced with the dilemma of either responding to what they were saying or sticking to the studio brief. The decision was made for us to stick to the brief because we felt that we could not tackle all of the complex issues they had raised in one semester.
DT: Could you also tell us a little bit more about why the community did not want a museum and preferred a community center instead?
DA: They felt that museums historically portrayed their defeat; one story that I've kept with me is that when a chief was killed in a war, they would cast a plaster mold of his face and then make a mask with it called a "death mask." That mask would then be displayed in a museum. Instead of that, they wanted something that made them feel like they were continuing to live, something that would teach their language to the children and teach their arts.
DT: You teach classes on African urbanism in universities in both North America and Africa. In addition to your course, what other courses are being taught that address architectural history and theory through different lenses?
DA: One of the courses I taught was at the New School in New York. It was at the Milano School of International Affairs, and not at Parsons. The course was a seminar in which we travelled with the students to Kampala to look at urban policy and the challenges the city is facing. Over two months, the students got to understand the city through a specific topic that they selected. This is the only course at Milano of its nature that I recall. Last year, I was part of Unit 15(x), a year-long course at the University of Johannesburg. The course was an experiment in and of itself; I had never taken architecture students to Kampala, and even I did not know what we were going to find in the urban wetlands. The other thing I insisted on was that we collaborate with a university in Kampala because without the local students, it is harder to fully access and understand the city.
Priyanka Sheth: As an extension of your academic activities, you have worked on African Modernism, a travelling exhibition where you documented building case studies in Kampala. What informed your decision to pick these buildings specifically?
DA: When we started our research, we picked over 27 buildings. We tried to look for a range of building uses, but there were some buildings we really wanted to include but couldn't study because of security reasons, like the parliament building and the Bank of Uganda building. In the end, we picked residence halls at the university, the university's main library, an industrial building, some office buildings, and the national theater. Often, we found that the information on the buildings we selected was in the British Archives and not actually in Kampala. We created a workshop with nine photographers and nine architecture students or young professionals. They looked at how each of the buildings changed and adapted to the contemporary city while researching each building's story. They were also encouraged to sketch as a way of understanding the buildings, but the main focus was on photography.
DT: You were also one of the contributors to African Mobilities: This is not a Refugee Camp Exhibition. We were struck by the subtitle of the exhibition and its clear goal of destabilizing the stereotypical depictions of Africa as a space of crisis. Can you speak more about the work within this exhibition and how it brought to the forefront the voices of people who are from the contexts that are being discussed, as opposed to narratives of external voices?
DA: The title was chosen by the curator, Dr. Mpho Matsipa, and she felt very strongly that as Africans we should tell our own story. This idea of the continent being constantly in crisis is only one view, so this exhibition intended to highlight a different narrative. What we found in reality was that refugees did not necessarily remain in refugee camps. Most of them actually leave and move to cities and towns, set up businesses, are productive and hire people within the host community. Our team looked at a Congolese refugee community in Kampala. They are mainly in the kitenge trade, and we found this out because one our team members had done a Ph.D on markets and brought up this research. We then found a Congolese trader called Elvis who was selling kitenge in downtown Kampala, and we followed him for three months. Initially we wanted to study his space and propose a design for it, but we found out that he had carefully designed his own space, and it was working perfectly—there was nothing for us to add. His shop itself is almost like a closet, a one by three meter space. At night everything is stored within the shop and in the morning the shop itself unfolds into the walkway, becoming a three meter by three meter space.
PS: Your team looked at how refugees bring in creativity and innovation in Kampala. How did the contributors from other cities address this topic?
DA: There was an artist from Harare, Zimbabwe who was looking at music and mobility through a train that goes between Harare and Johannesburg. There was an exchange in musical trends through this back and forth movement, and this had an impact on the music industry in both countries. A team from Lagos had a visual artist trained as an architect, and they imagined Lagos in the future through a futuristic video. Each of the groups took a completely different take on the whole topic.
DT: With such a wide range of approaches to this prompt, can you tell us about about the role of representation in this project?
DA: With both Unit 15(x) and African Mobilities, one thing that keeps coming up is new ways of representing a lot of conditions that are temporal and cannot just be represented in plan, section, and elevation. This is a thread that ties together the projects I just discussed. It is a journey that started with that one studio at Yale, and with realizing that certain issues that are not straightforward take longer to figure out how to represent.
DT: In your February interview with Yale News, you referred to opportunities provided by the Yale Africa Initiative. How do you think that YSoA can mobilize, showcase, and disseminate knowledge and ideas from Africa?
DA: I think one way that YSoA could work with the Yale Africa Initiative is by supporting a lecture or lecture series, maybe a symposium, or even an exhibition on contemporary topics in Africa. Or, by finding ways of getting new perspectives and new voices while taking what comes out of that back into the continent. Both African Mobilities and African Modernism had the mandate to get the information back to the continent, instead of it letting it stay in an exhibition so far away that it is inaccessible. It would have to be a discussion and a search for a strategy of how it can be done.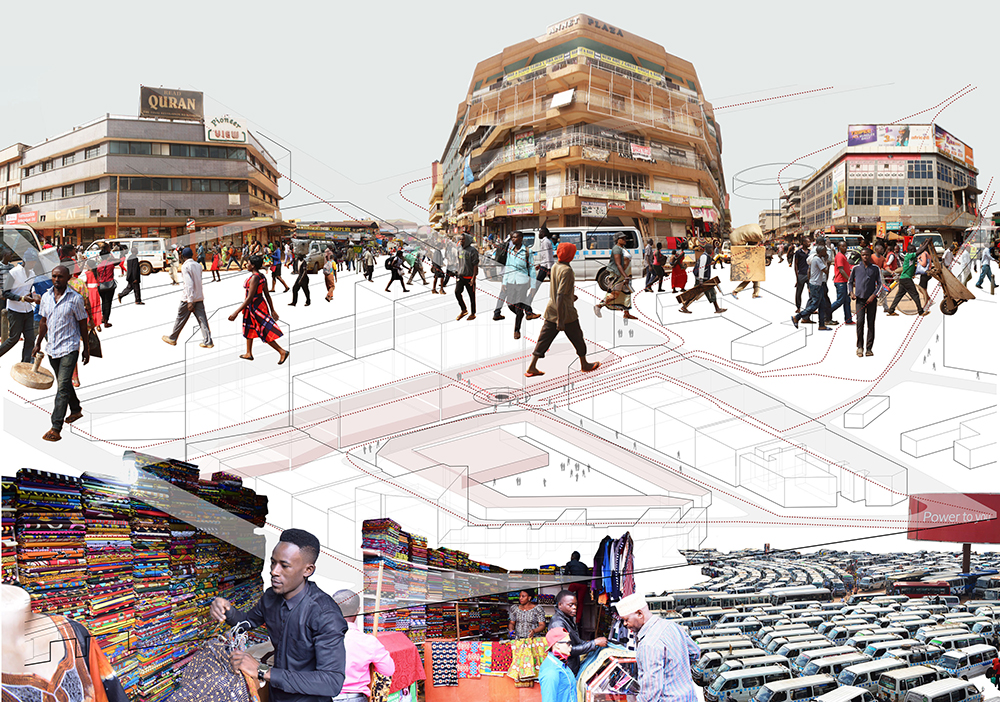 Image courtesy of Adengo Architecture.