Curating Change : An Interview with Andres Lepik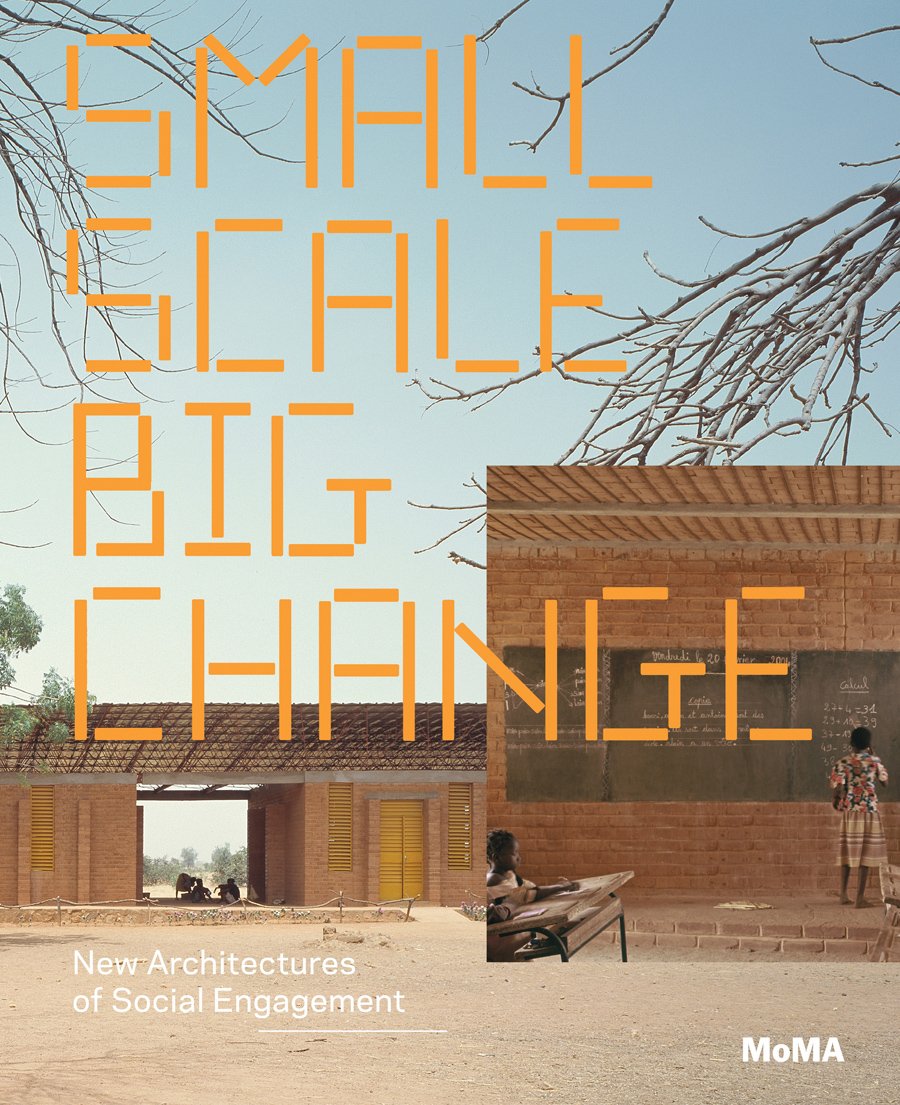 1.Small Scale Big Change. Publication of Exhibition at MoMA curated by Andres Lepik.
11.12.2015
JENNY KIM (M.Arch '16)
Social engagement and participatory design has been in the spotlight at YSOA this fall, in part due to Sara Caple's seminar "Participation in diverse communities".  Each week, students present a project that explores cultural and public projects that are both architecturally compelling and socially uplifting. Many of the projects were featured  at the exhibition "Small Scale Big Change: New Architecture of Social Engagement " curated by architecture historian Andres Lepik. This exhibition and his latest, "AFRITECTURE Building social change", at the  architecture museum at TU Munich, feature projects around the world that have had major social impact despite their scale and limited budgets. Andres Lepik's  research explores the history of theory and social engagement in architecture in the twentieth century, from Modernism to contemporary practice.
* Red Location Museum is an apartheid museum located in Port Elizabeth, South Africa. It was designed by Noero Wolff architects as part of an on-going cultural master plan in the township of New Brighton in Port Elizabeth.
2. Red Location Museum of Struggle. 1998-2005. Port Elizabeth, South Africa. Noero Wolff Architects
What measures did you take into consideration when selecting projects for the exhibition, and what do you consider to be a "successful project"?
I developed a set of criteria for the selection process and one was the engagement of the architect in the neighborhood and the community. I wanted to show how architects are not only planning something from their desk, but also talking to the community leaders, engaging with the future users and involving them in the planning, construction, and sometimes the organization of the project itself. The exhibitions focused on projects that have somehow addressed a need or a desire that is not only individual or formulated by a government authority, but by the community. Community participation allowed the project to later be accepted better than it would have otherwise.
Questions of local resources were always very important: local in terms of economic and ecological resources, so that the project would not be designed from a distance. Rather than bring in completely new technology that is unfamiliar and that people would not understand and would not be capable of maintaining, a project would look at the local materials, the craft, and the working skills that are available.
Finally, good design has a dimension of aesthetics. You can create good design with a low budget using simple materials and still have strong visual quality, and I think that is what all these projects have in common.
What is your interest in socially responsible architecture, and what do you hope bring to the architecture community through exhibitions like "Small Scale, Big Change" and "**AFRITECTURE"**?
I hope to bring public awareness to the movement of architects trying to make their work meaningful, which might have several aspects, but for me, meaningful means having an impact in the global society. To be a little bit more provocative, if you were to build a new museum in Dubai, that's something you can do as an architect, but the social impact is almost zero. It's just delivering a design project for some people who have the money to realize it. If you realize a school project in a slum like Kibera, Nairobi, or in a township, or in a favela in Rio de Janeiro, you have a strong impact in the local community and beyond.
In your experience, how can architects from a developed western world bring their expertise to a place like the townships of South Africa, in a way that doesn't seem foreign and also presumptuous of their circumstances?
You can find many foreign architects who work in Africa and in Latin America with great success. Foreign architects come in, and from their understanding of the differences from their own culture they see things better than the local architects, because sometimes the local architects have a limited view of their own problem. They don't know how to solve design issues within their own local communities because they're too much in the same network. So I think it's good to have someone come from the outside who has a respect for the position and is willing to work with the community to learn. He/She cannot just design it from the outside. There are many case studies of architects going to Africa and really struggling in the beginning and later getting accepted and then being asked to come back to design more projects. This is also important, that an architect doesn't just design one project and leaves when it ends, but that he stays with it and comes back and follows up on the success of the building.
In the Red Location Museum of Struggle, South African architect Jo Noero described the decision to use industrial materials to show that humble materials can be beautiful and used out of choice rather than out of need. What are your thoughts on contextual design with projects situated in shanty towns?
Noero is taking the aesthetic of industrial buildings and making it more refined and elegant without creating a building that is totally strange to the neighborhood. In the reference to industrial buildings, Noero creates a familiarity with the buildings that the local people are used to seeing everyday. Just imagine if you put in that neighborhood an object by Zaha Hadid, that would be totally rejected because people would say this has nothing to do with us. I think it's a really fine line: how to make a place better without creating a white elephant?
Why do you focus on Africa, and not on similar problems in the western developed world in places like New York, Boston, or Munich?
I'm trying to show that we can learn from these projects in Africa and Latin America, because most times, they are built with less restrictions than we have here in Europe or in the US.
I'm an architecture historian, and I always look back at history. What was the situation in 1990 when the Yugoslavian war was happening? There were about 500,000 refugees from former Yugoslavia who came to Germany. What was the answer of the politicians? They had no answers. What was the answer of the architects? They also had no answers.
I'm now working with architects in Munich. Everyone is aware of the refugee situation today. We have a large number of the refugees from Syria coming to Germany now: in September of this year we had up to 12,000 refugees coming here every weekend. I think in the architecture schools these problems have not been addressed yet, but it's very urgent. This is the moment when deans of the architecture schools should stick their heads together and say, how can we answer to that? How can we create design programs, engage ourselves and the students to really create some solutions? In Germany, we have the Ministry of Inner Affairs, which has already said that they're willing to change the building codes if we can get good solutions for this situation. This is an unheard of situation where they are willing to make changes if the architects would now say what they really need to solve the problem.
We need to make special building codes for refugee housing. We cannot let them sleep in tents or containers any longer.