ON THE GROUND
2016.05.02
Contributors: ELAINA BERKOWITZ (MArch '17), NICOLAS KEMPER (MArch '16), ANNE MA (MArch '16)papiXXV_OTG_color.jpg papiXXV_OTG_pomo_bob.jpg4/9 & 4/10: ANNE MA and WINNY TAN represented Yale and YSoA at the Northeast Collegiate Team Badminton Championships in New Jersey, in which Yale came home in 4th place, unfortunately falling to Duke. They're still number one in our eyes!
4/14: With the combination of the Dean's retirement and symposium leading to drinking and receptions on Monday, Thursday, Friday, and Saturday, PIER VITTORIO AURERLI  noted that the Yale School of Architecture is more like the Yale School of Partying.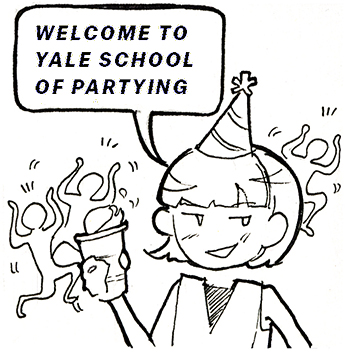 4/15: 'Torture is torture I suppose,' DEAN STERN mused while covering the history of YSoA studio spaces, which at one point were located in what used to be a dental office.
4/16: At the Dean's Panel 'Teaching / Leading / Inspiring,' Will Hunter of the 6-month-old London School of Architecture cited the extremely high cost of tuition in architecture school- 9,000 pounds per year in the U.K. Laughable in the U.S, he immediately noted amongst literal laughter.
#POMOparty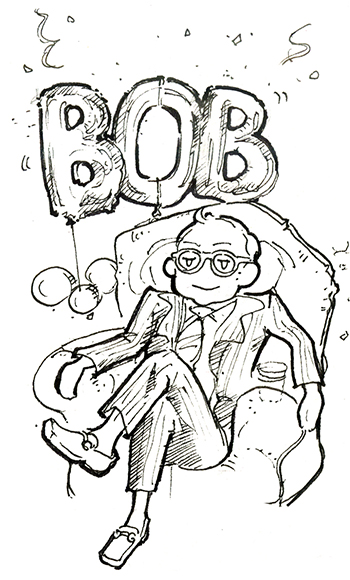 4/16: After a weekend of symposium activity, YSoA truly became #YSoP (thanks for the nickname PV), and partied hard with a surprise #pomoparty to honor DEAN STERN's 18-year deanship.
Students contributed to the festivities with homemade POMO themed food. Among the most creative food names: EisenMuffins, Tatlin's Taters, and Critical Canape. Decorations included large silver balloons spelling out 'BOB,' and video projections on loop featuring some of our dean's television appearances.
A roast of DEAN STERN, hosted by JOHN KLEINSCHMIDT and CHARLES KANE, and included a tongue-in-cheek tutorial on how to mix martinis à la Stern (a martini glass full to the brim with vodka).
In a touching story of his beginnings at YSoA,  Administrative Assistant RICHARD DEFLUMERI shared an interaction with another YSoA staff member he met at the bar Anchor. When he was introduced as  Richard, they replied, 'you mean RICHARD?!?!,' in reference to very enthusiastic way he's called to attention by the Dean.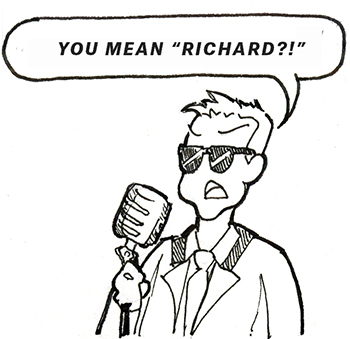 He also shared his thoughts about his future at YSoA- after Dean Designate DEBORAH BERKE mentioned to him that she doesn't yell, Richard worried, 'How am I going to know what you want?' Feel free to yell, Dean Berke.
As things heated up during the dancing to the live band at Dean Stern's encouragement, students continued to party, cooling off during a spontaneous systems study session, held in the seventh floor seminar room, focusing on ceiling embedded ventilation.
4/18: At his PhD forum, "breathing architecture," TIM ALTENHOF traced our relationship to air from turbuculosis to gas attacks, noting that for Corbusier, the ultimate building was the lung.
KYLE DUGDALE asked if ALTENHOF had come across any more compelling way of representing air than an arrow. No, he had not.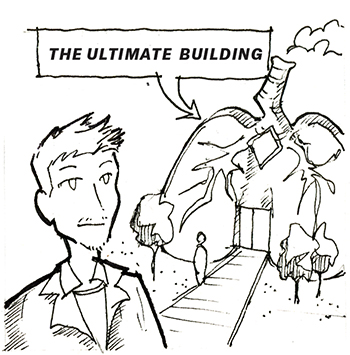 4/22: Noting that his students knew more about contemporary architecture than he does about the Renaissance, PETER EISENMAN suggested that perhaps today's buildings are our authority, and the core curriculum should focus on them, saying, "I don't believe in curriculum, I believe in teachers."
4/23: Students gathered to celebrate Passover, repurposing a drawing board as their table.
4/24: A small horde of YSoAers, among them SEAN GRIFFITHS, attended the Bernie Sanders rally at the New Haven Green.
4/24: In the meantime team Tama the Cat, aka XIAO WU & WINNY TAN bested Age of Aquarius MICHELLE CHEN and LUKE ANDERSON, to become this semester's mixed gender badminton champions. Yet to be seen is who will win the best team name.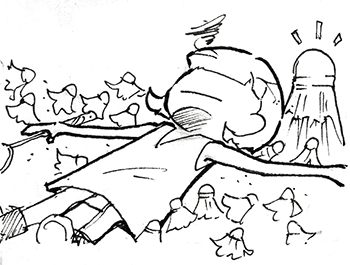 4/25: In the last class for his seminar The Architectural Surface, ANTHONY VIDLER noted that there are other joys in life besides architecture- for him they include cooking, family, and being a 'top nerd.' We find joy in your nerdiness, too.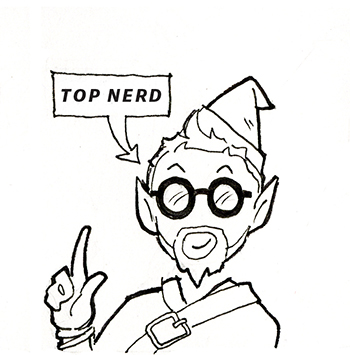 Cheers to Paprika's Spring 2016 Co-ordinating Editors MAGGIE TSANG and TESS MCNAMARA. You guys killed it! We'll especially miss your wonderful gifs, which made your emails extra #spicy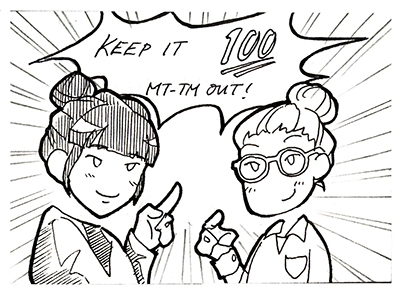 The views expressed in Paprika! do not represent those of the Yale School of Architecture. Please send all comments and corrections to paprika.ysoa@gmail.com. To read Paprika! online, please visit our website, yalepaprika.com
Paprika! receives no funding from the School of Architecture. We thank GPSS and the Yale University Art Gallery for their support.