Interview with Justin Hollander
JESSICA ANGEL (M. Arch I, '16)
Jessica Angel (JA): Who are your biggest enemies when addressing population decline? Would you argue that it is a sensitive issue, especially in a country where population growth is the synonym for economic growth and success?
Justin Hollander (JH): I don't like to think in terms of enemies. The penchant for equating growth with success is quite prevalent and much of my work does challenge that and threatens a certain status quo for a range of politicians, businesses, and major property owners. They fear that coming to terms with decline will exacerbate trends and create a further spiral of disinvestment. In my own research, I have debunked these fears, instead arguing that a realistic appraisal of demographic patterns can help a place better manage the change they are facing.
JA: Do you think Malthus was right in advocating that inevitably the earth would not be able to sustain the needs of its population and therefore we should control birth rates? Are you a neo-Malthusian or do you simply think that when population decline happens, we should see it as a good opportunity for urban renewal?
JH: My research does not hinge on whether Malthus was right or wrong. Rather than some kind of Malthusian catastrophe at the global scale, I am much more concerned about the problems depopulating places face at the local scale – where most urban planning occurs. When a place does lose population, local leaders ought to see it is an opportunity to physically adapt that place for a smaller population – not necessary 'renewal'.
JA: Does shrinking necessarily require densifying?
JH: No, a city that loses population can reduce its density to that of a suburb. A shrinking suburb can transform into a rural town. What vexes me is how much bias designers and planners tend to bring to certain densities, e.g. 20 housing units per acre is better than 5 units per acre. Instead, we should be designing metropolitan areas to meet a variety of density levels, and that doesn't mean the Chicago School concentric ring model has to be the only way, where density is highest in the urban core and gets progressively lower further away.
JA: In recent years, cities like Detroit have attracted a lot of artists fascinated with the evocative quality of modern ruins. What is your take on the contemporary 'aestheticization' of this condition?
JH: I can certainly appreciate the artistic value of modern ruins, unfortunately much of this work you are referring to ignores the fact that almost 700,000 people call Detroit home. Far from being in ruins, Detroit continues to be one of the larger cities in the Midwest and a major economic engine for the region. The city does have a massive abandoned building problem, and artists have found clever ways to explore that condition. I just get disappointed when the larger picture of the city's vitality is ignored in this kind of art.
JA: Second year architecture students are currently working on an urban project in Bridgeport, a city threatened by rising sea levels. Resistance or resilience, what is your best advice?
JH: Bridgeport has faced substantial challenges related to demographic and economic changes over the last half-century, though the city continues to have considerable assets for the foreseeable future. I encourage your fellow students to read a series from the Connecticut Post last winter that offered a hopeful path for the future of Bridgeport (here's a link to one of the stories: http://www.ctpost.com/local/article/Breaking-free-of-industrial-wastelands-5909811.php)
My own studies have found that there are ample opportunities for right-sizing the city for a smaller population and that could mean repurposing some currently developed coastal zones for open space or recreation.
JA: What's your current state of mind about the 'future'? Is the planet doomed?
JH: I am hopeful about the future. No doubt, we must do more collectively to better manage natural resources, reduce energy use, and protect our air and water from pollution, but good urban and regional development models are out there.
JA: Can you share with us a photo that illustrates a residual space that has been successfully reused and re-appropriated? Feel free to elaborate on your choice.
JH: I pasted an image from Baltimore, Maryland, a house, standing alone on a quarter-acre of land.  Previously the house was cheek-to-jowl against at least four or five other homes in a crowded urban environment. Today, this residual building and its residual surrounding lawn feels more suburban or even rural. Some designers would see this as a failure, I am not so quick to judge – I think you have to ask the person who lives there.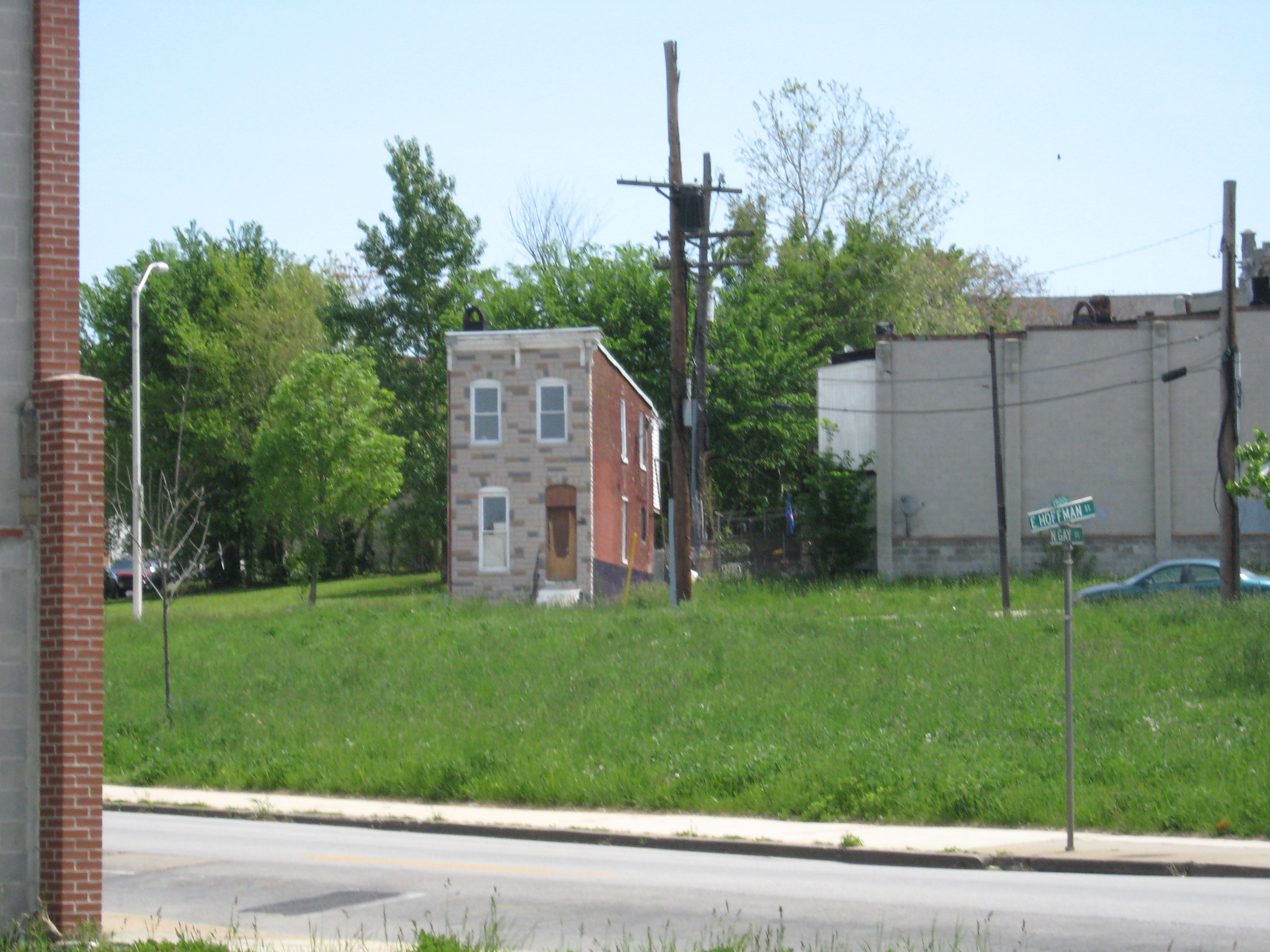 This is a photograph of a single remaining row house on a Baltimore street by Justin Hollander.