Book Review, Haunted Bauhaus: Occult Spirituality, Gender Fluidity, Queer Identities, and Radical Politics (Elizabeth Otto)
In Haunted Bauhaus: Occult Spirituality, Gender Fluidity, Queer Identities, and Radical Politics, art historian Elizabeth Otto aims to complicate the Bauhaus narrative built upon myths of technological rationalization and innovation. Using the term "haunted" as theorized by Avery Gordon,[1] she seeks to uncover the work, stories, and relationships that have been obscured in the canonical historiographies of the Bauhaus. She argues that by presenting lesser known stories and work of Bauhäusler[2] who engaged with alternative spiritual practices, gender representations, non-normative desires, and political organizing; we understand the school as a complex, layered institution that—perhaps despite itself—became the ground for experimentation in art-making, production, and living in the Weimar Republic.
Five distinct chapters respectively address: experimental religions and the occult; competing visions of masculine identities; emergent ideals of feminity; queer practices; and communist organizing and reactionary responses. The book is neither a comprehensive chronological account nor a celebratory history published for the school's centenary.  Elizabeth Otto clarifies from the start that her argument is not about the tolerance and progressive nature of the Bauhaus as an institution. Instead, she reminds us of the school's conservative and discriminatory practices. She counterposes threads that, if pulled from the mainstream Bauhaus narrative, can reveal seeds of radical nonconformity. While some of these threads are more persuasive than others, this methodological tension – which structures the book in its entirety – offers insights into the ways spaces, objects, and people came together to enact transgressive politics and projects. Three such stories about the work of Max Peiffer Watenphul and the photographs of Marianne Brandt and Gertrud Arndt are indicative of the book's approach.
In the photo Untitled (Young Italian Man), a nearly naked subject smiles and tucks his hand into the top of his underwear. The chiaroscuro highlights banal details: a wristwatch, a fingernail, a piece of brass hardware. Max Peiffer Watenphul captured this balance of sexual desire and nonchalance in 1931 or 1932 in a series of photos he took in Rome while at the German Academy, almost a decade after he left the Bauhaus. All the photos feature men in sexually suggestive poses. Elizabeth Otto suggests they were daring expressions of same-sex desire for an artist living in an increasingly conservative German society. If this photo series was the culmination of Peiffer Watenphul's exploration of queerness, what was its relation to his education in the Bauhaus?
Otto traces back the beginnings of this exploration to the Bauhaus weaving workshop, where Peiffer Watenphul, as one of the only male students, defied the school's gendered labor division. It was in this workshop that he produced some of his most memorable work. Years after he left the school, Peiffer Watenphul benefitted from the network of Bauhäusler who collected and affirmed his work. Josef Albers, for instance, owned two photos from his "Grotesques" series, which captured women (often friends and family) and crossdressing men (likely his friends from Berlin's gay nightlife scene) posing in a flurry of luxurious fabrics, jewels, and makeup. Otto offers his acceptance into the weaving workshop and the positive reception of his work as evidence of a transgressive streak during his art education. If at times the connection between Peiffer Watenphul's gay identity and his four semesters as a student at the Bauhaus appears elusive, it is consistent with the book's intention. Otto offers a reparative mode of inquiry that expands our understanding of who counts as a Bauhäusler and attempts to restore queer identities without absolving the institution at large.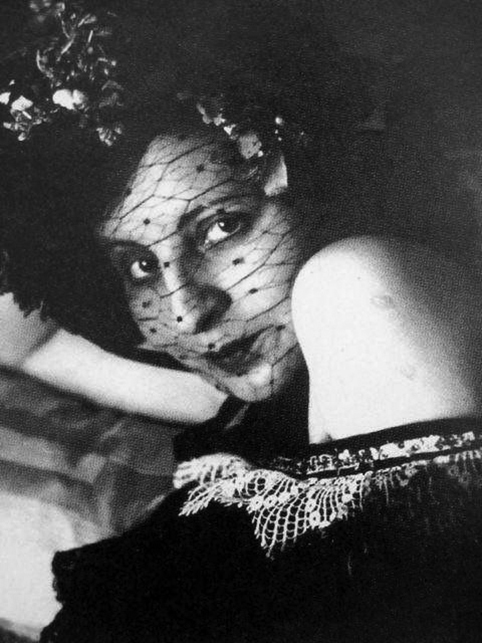 Gertrud, Arndt, Mask Portrait #19, 1930.
Equally provocative is Otto's chapter on the construction and transformation of femininity. In a section titled "Exploring the self in transformation," Otto analyzes photographic self portraits of Marianne Brandt, a junior faculty member, that tackle new ways of being for women in the workplace and society. Combining beauty, irony, and self-awareness; Brandt's photographs interrogate the traits of the New Woman—a trope of the Bauhaus—and offer diverse representations of the female within recognizable, austere, modernist Bauhaus rooms. As a foil to Brandt's work, Otto presents Gertrud Arndt's photos as a self-conscious rejection of Bauhaus objectivity. Arndt, dissuaded from studying and practicing architecture, turned to whimsical performances and ornamental costumes. The contrast between Brandt and Arndt—between productive questioning and rebellious rejection—underscores the subversive interrogations of Bauhaus phallocentrism. By focusing on Bauhäusler once relegated to the margins of Bauhaus history, Otto represents the school as a site for progressive work beyond the scope of rational modernism.
Peiffer Watenphul's textiles and Arndt and Brandt's photography illustrate how the Bauhaus contributed, often unintentionally, to complex and unconventional self exploration and artistic development. There are many more examples in Otto's book, which also reveal that the history of the institution was inseparable from the politics of its time. Put differently, non-conforming lives and practices have been excluded from the historiography of modern architecure as much as they have been from the politics of modernity. And Otto shows us that the dominant Bauhaus narrative erased valuable stories. One realizes that there cannot be one complete account of the non-compliant lives that passed through its doors. Yet, by tying these hidden and diverse stories together, the book provides a necessary starting point for future investigations into our marginalized pasts.
Diego Arango, M.Arch I '19, is a designer at Marble Fairbanks in Brooklyn.
[1] Avery Gordon, Ghostly Matters: Haunting and the Sociological Imagination (Minneapolis: University of Minnesota Press, 1997/2008), xvi, quoted in Elizabeth Otto, Haunted Bauhaus: Occult Spirituality, Gender Fluidity, Queer Identities, and Radical Politics (Cambridge, MA: The MIT Press, 2019), 4.
[2] The students and faculty members who studied and worked at the Bauhaus.