ON THE GROUND, 04.01-04.07
Six young 2nd Year whippersnappers from MArch I represented YSOA at the 2015 LIXIL International University Architectural Competition, the first stage of which concluded on March 19th. Organized and funded by the LIXIL Corporation in conjunction with Kengo Kuma, 12 student teams from architecture schools around the world competed for the top prize of US$15,000 and the chance to see their design realized on the Memu Meadows "experimental building ranch" on the east coast of Hokkaido, Japan. This year's brief called for a "House for Enjoying the Harsh Cold", an innovative design solution to rethink the way dwellings in Hokkaido are constructed and experienced. Alas, fortune conspired against the team from Yale and they did not make it to the finals.
04.01
"I've looked at architects who are not part of the canon of modern architectural history, but who nonetheless have made a large impact on public life," said MEREDITH TENHOOR to the M.E.D. Colloquium, mentioning Henri Colboc and Georges Phillippe, the two primary designers of the modern, food-distribution system of Marché de Rungis in the 1960s and 1970s. Moving to Michel Foucault, bio-politics, and the monetization of life, she said, "If Delueze has taught me any one lesson, especially in his later work of Postscript on the Societies and Control, it's that nothing can remain minor, and that in the logic of capitalism what's minor and avant-garde largely becomes a testing-ground for what will eventually be absorbed into consumer capitalism."
04.02
In "Rituals and Walls: Notes on the Architecture of Sacred Space,"  PIER VITTORIO AURELI joined KARLA BRITTON's seminar to pose two critical questions: What can be a sacred space today when the whole world has become, de facto, a sacred space that is constantly scripted and ritualized? And, how can we reclaim a distinction between sacred and profane through architecture?
ALAN PLATTUS told the first years in urban planning that when he was a student at Princeton, the dean of the university was made aware that architects are compensated much less than what people tend to believe. Subsequently, the dean made architecture school tuition mostly subsidized. The charge for students at Yale today is to make the issue of architect's compensation and the high cost of education paramount, not only within the search for the new dean of the architecture school, but also with the larger administration at Yale.
"Does Justin Bieber even have a typical front porch?" asked MADELYNN RINGO (M.Arch I '16), in a discussion of a classmate's proposal for a new private space-sharing platform during KELLER EASTERLING'S class "Launch: Architecture and Entrepreneurialism".
"The office culture is not one of the things I came away wanting to replicate," replied JEANNE GANG to a question about OMA's legendarily "hellish" office culture. Neither does RAMSA look to Chicago for its models, acknowledged ROBERT STERN: "Not every office is based on martinis – she takes them camping. I decided not to adopt that model."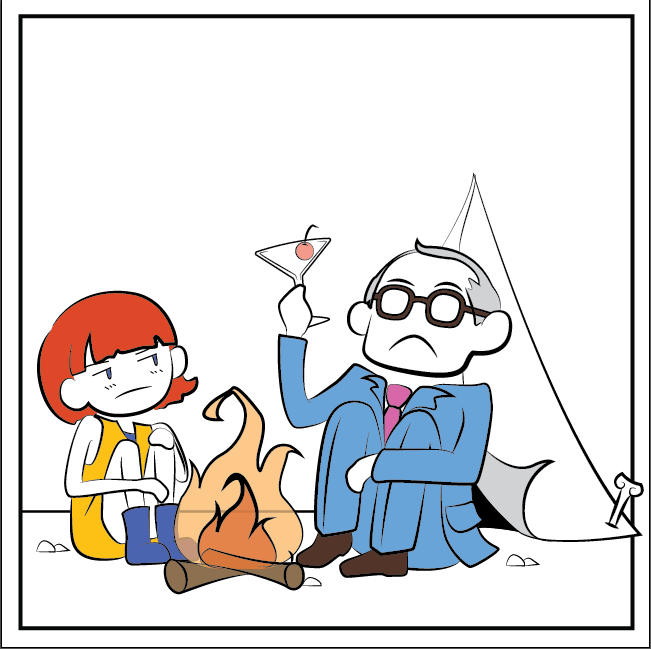 04.03
"So we are in a tweaking culture" said CYNTHIA DAVIDSON as painter DAVID SALLE joined PETER EISENMAN for his seminar for a discussion about intentionality ("over-rated"), originality (King, "in the land of know nothings") and, well, diptychs.
04.07
DRAWING PROJECTS abandoned the A+A Building and headed across the street to the art gallery, where LUCY GELLMAN from the gallery arranged some twenty images and Turner selected a number of works from Picasso to Seurat to Gorky to Goya, whose etchings he described as "dancing in some hallucinatory world."
ALEXANDER PURVES ('58, March '65) and JULES DAVID PROWN, the first director of the Center for British Art, discussed Louis Kahn and his design philosophy for the museum during Kahn in Conversation, in Hastings Hall. PROWN, as Kahn's client for the project, established a requirement for daylight and the idea that installations would have to "work against the architecture of rooms." Later, when asked what the building would look like, Kahn replied, "on sunny day like a butterfly, on cloudy day like a moth." Later in the conversation, Purves admitted to climbing around Rudolph's sculpture-like A&A building while under construction.
In books, IRMA BOOM introduced EXPAND – an experiment to increase two books beyond their original dimensions, both literally and figuratively, by adding documentation (images and texts).
Undergraduate senior societies will be initiating new members tonight, once more putting ITHIEL TOWN's (MA 1825) historicist design at 64 High Street to work.
Notes from the Undergrad
"It's less like sentences and more like a laser show" — BOBBY DE LA ROSA, BA Arch '15, on his project statement. "I feel like a hairball that a cat threw up." — everyone, on Sunday.
CORRECTIONS
In the last issue we swapped the pictures attached with the building projects of LAURA MEADE (M.Arch I '17) and WES HIATT (M.Arch I '17). We also forgot to include LUCAS BOYD's (M.Arch I '17) name in association with House D.